0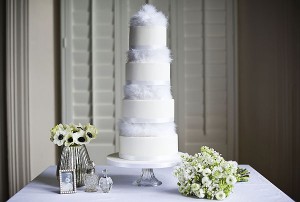 Some days I like my job, and somedays, I really love it.
What makes the difference?  Usually, it's interacting with the fun, friendly, vibrant community of bakers from all over the world that I'm getting to know through my work here on A Wedding Cake Blog.  Seriously, y'all.  I never would have dreamed 10 years ago that I would be chatting with gifted bakers from England and Australia.  Thank you, social media!
I asked for opinions on cakes that feature feathers a couple of weeks back, and Janet Mohapi Banks of the insanely beautiful Janet Mohapi Banks Sculptural Cake Design in Surrey, UK, replied with this stunning cake.  And I do mean stunning.  Frankly, I was on the fence about cake + feathers, but this one has made a believer of me!  Four lovely tiers, trimmed in satin ribbon and spaced so that each looks as though it is floating on a cloud of soft, downy feathers.  It's whimsical meets minimalist, and I love it.
If you love this cake by Janet, check out her other one that we've featured, this beautiful Pink Ombre Roses Wedding Cake.
Cake: Janet Mohapi-Banks – http://janetmohapibanks.com
Photography: Juliet Mckee Photography – http://julietmckeephotography.co.uk
Styling: Stacey-Marie Chalk – www.cherrytopped.co.uk
Flowers: Wild About Flowers – www.wild-about.com
Stationery: Ivy Ellen – www.ivyellen.com
Venue: Fetcham Park House – www.parallelvenues.co.uk
Read More:
british wedding cakes
,
feather wedding cakes
,
london wedding cakes
,
surrey wedding cakes
,
unique wedding cakes
,
white wedding cakes