0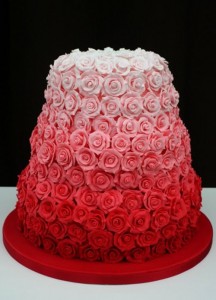 I am a sucker for the ombre technique of gently moving from lighter to darker shades of a color.  Whether it's a dress, a wall, a piece of stationary, or a cake – if it's a color that I love, and the artist has used ombre, I'm in.
This cake super had me at hello.  Isn't it just perfection?  Gradually moving from the palest pink to Valentine red, it's just breathtaking.  In fact, I think it's the perfect cake to feature as we head toward the month o' love.
This lovely cake is the work of Janet Mohapi-Banks, a wonderfully talented baker and cake artist located just outside London, England.  We've featured her work before, and it's lovely.  Janet's motto is "Perfect days need perfect cakes."  We quite agree that this cake fits that bill flawlessly.  Visit Janet's website for more examples of her beautiful cakes.
Read More:
British Bakers
,
british wedding cakes
,
london bakers
,
ombre wedding cakes
,
Pink wedding cakes
,
red wedding cakes
,
roses wedding cake
,
sculpted wedding cakes
,
sculptured wedding cakes
,
valentines wedding cakes