0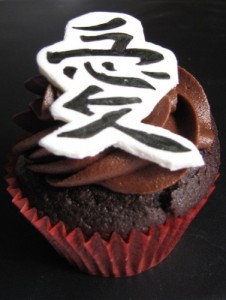 How about some late love on this lovely Thursday?
Sure, the day has kicked my fanny, and I'm just posting.  So I thought I'd extend myself a little chocolate grace.  So here is a cupcake. For you.  And for me.
Isn't this lovely?  And get a load of the ab fab flav – it's a chocolate chili cupcake with Mexican hot chocolate buttercream.  ¡Ay, caramba!
And as if that weren't enough, the fondant placket on top shows the kanji symbol for LOVE.  SWEET!  In fact, let's go with this theme and make cupcakes with all kinds of kanji symbols that would be appropriate celebration and blessing for the BIG DAY – hope, peace, laughter, etc, etc.  You can fill in the blanks.
Read More:
chocolate chili cupcakes
,
chocolate wedding cupcakes
,
kanji symbols
,
mexican chocolate cupcakes
,
red cupcakes