chocolate wedding cupcakes
0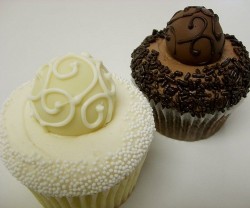 What could possibly be better than bride and groom cupcakes?  Why, bride and groom cupcakes topped with TRUFFLES, of course!
This pic is equal parts "Duh, why didn't I think of that?" and "AWESOMENESS!"  Beautiful his and hers cupcakes, each topped with Read More
0
How about some late love on this lovely Thursday?
Sure, the day has kicked my fanny, and I'm just posting.  So I thought I'd extend myself a little chocolate grace.  So here is a cupcake. For you.  And for me.
Isn't this lovely?  And get a load of the ab fab flav – it's a chocolate chili cupcake with Mexican hot chocolate buttercream.  ¡Ay, caramba!
And as if that weren't enough, the fondant placket on top shows Read More
0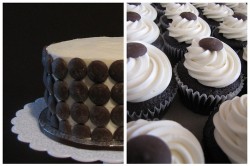 Check out these adorable Chocolate Button Cupcakes with matching six inch cutting cake.
Ah-dor-ah-bull.
These chocolate cupcakes are frosted with Vanilla Buttercream and topped with a sweet chocolate button. The cutting cake Read More