0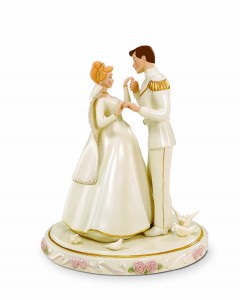 Is your wedding your "happily ever after" moment? Then you should totally have this cake topper, n'est pas?  Cinderella, in fine Lenox china.  Fantastic.
We've actually featured a post with this topper here, but I couldn't resist the opportunity to share this beautiful close up with you – and a source where you can buy it for yourself!  Not only would this lovely fine china figurine serve as a beautiful memento of your special day, but it's especially appropriate now, as Cinderella will be re released in a newly restored Diamond Edition on October 2!
So, will your big day be the culmination of your fairy tale?  Are you the princess, and he the prince, of your dreams?  Then by all means, celebrate with this beautiful Cinderella and Prince Charming cake topper.
Love it?  Want it?  Get it here!  But hurry – seriously – quantitis are limited.