0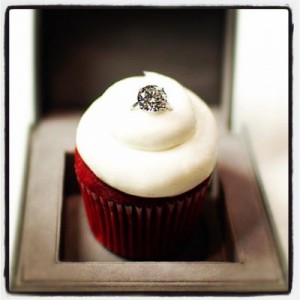 Helloooo, Cupcake.
I may have just found my favoritest.  Cake topper.  EVER.
DIAMONDS.
Specifically, one mongo huge diamond, in the form of a solitare setting, nestled in the luxe cream cheese icing of a perfectly sumptuous red velvet cupcake.
OMG.
So, Girls, can you think of a better way for your guy to propose?  I mean seriously?  Gorgeous diamond and delicious cupcake for the WIN!
We don't know if this delicious offer is still available – it was a cupcake special for Valentine's Day – but if so, we SUPER think your guy should TOTALLY do this.  And send us pics of the big moment.
Yes.  Because there is nothing more to say.
What do you think?  Would you like your diamond to be nestled among the frosting?  Leave a comment for us below!
Read More:
cupcake toppers
,
diamond solitares
,
engagement ring wedding cake toppers
,
popping the question
,
red velvet cupcakes
,
wedding cake toppers