2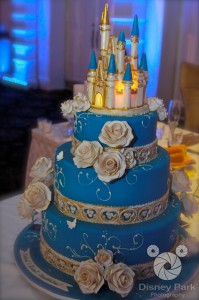 You know we love us some Disney here at A Wedding Cake Blog.  In fact, as I write this, I am entertaining a visit on Wednesday to Epcot and reliving a jaunt to Magic Kingdom last week!  Sigh.  I heart living in Florida.
But I didn't come here today to make you green with envy.  Oh no.  I came to show you a FABULOUS cake.
DisneyRob tapped me on the shoulder a while back and asked me if I'd like to feature his cake on our blog?  And I said, "OH YES PLEASE!" I mean…I composed myself and said, "That would be lovely.  Yes.  Thank you."
But seriously.  Guys.  The Castle.  IT LIGHTS UP.
And that's not all.  Here, let's hear from Rob in his own words.
The blue fondant was inspired by the blue in the spires of Cinderella Castle.  The border was inspired by the railing when you walk up the Castle walkway.  The roses were for the rose garden next to Cinderella Castle.  The topper is made out of white chocolate and was ordered from the same company that provides them for the Walt Disney World Resort.  We had added floral LED lights in the Cinderella Castle topper that had changed colors; this gave the effect of when the castle changes colors at night.  It was very good; the cake was a white cake and the filling was white chocolate and raspberry.
Gorgeous…and delish.  It doesn't get any better than that!
Check out some of the other amazing Disney cakes that we've featured, like this Cinderella Wedding Cake, this adorable Pink Minnie Cake, a cute Disney Ears Wedding Cake, a whimsical Splash Mountain Wedding Cake, or my favorite, a Disney Beach Wedding Cake in the shape of a sandcastle!
And for more information on ordering a cake while visiting Walt Disney World, you can visit our friends at Disney Food Blog.  And be sure to visit Rob's website, Disney Photography for more cool Disney pics.
Read More:
blue and gold wedding cakes
,
Blue Wedding Cakes
,
castle wedding cakes
,
cinderellas castle wedding cakes
,
fantasy wedding cakes
,
light up wedding cakes
,
rose wedding cakes
,
theme park wedding cakes