0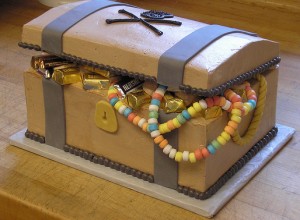 Oh, how I love chocolate.  And how I love pirates (well.  Johnny Depp and Orlando Bloom, anyway.) So this cake is pretty dreamy, don't you think?
I love that it's a cake – and I'm gonna go ahead and assume chocolate – filled with – YES! – more chocolate!
The detail here is darling, from the perfectly smooth buttercream, to the fondant design details and piped skull and crossbones.
So, what do you say?  Is there a little bit of the pirate about your guy?  Then y'all should totally feature this booty at the big party (Hey.  Keep it clean.)
Source <
Read More:
Brown Wedding Cake
,
candy cake
,
chocolate cake
,
pirate chest cake
,
pirate chest grooms cake