0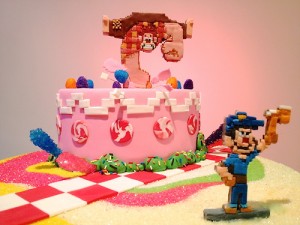 So, I realize that we who are children of the 80s are now firmly in the middle age category, which is a little hard to believe.  At the same time, I'd like to think that we're a little more relevant and hip than our predecessors were.   But I may be totally fooling myself.  Let me live in my fantasy?  Um K Thx.
However, I know that the recent Disney animated feature Wreck It Ralph had great potential to resonate with my generation, and terrific opportunity to pull later kiddoes in with its fun "retro" vibe.  See, when I say "retro" I'm not usually referring to Wham! songs.  But I totally get that you probably are.
Anyway…I love the film's concept, and I love what talented chef and cake artist Ricky Webster did when he brought the characters off the video screen and immortalized them in cake and frosting!  I think he did an excellent job recreating them and filling in the scenery, don't you?  I'm thinkin' this would make a crazy awesome groom's cake for your old-school-lovin'-video-game-playin' groom dude.  Totally!  Right?
If you'd like to see more of Chef Ricky's awesome work, you can follow him on Tumblr or Twitter.  We totally just did.

Read More:
disney cakes
,
media inspired cakes
,
retro cakes
,
video game cakes
,
wreck it ralph cakes