0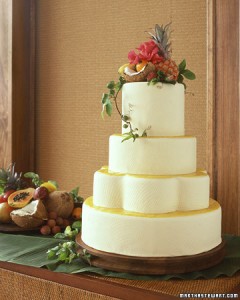 I love fruit, and I love fruit with cake.  When I cut into a cake and find some kind of fruit filling, I'm a happy, happy girl.
But what if you want something more interesting than ho-hum strawberries or lemon curd? (Both of which I adore, by the way.)  Consider, my friend, a tropical twist.
This beautiful cake has its lovely white layers topped with a glaze of passionfruit.  Omisosh.  SO yummy.  And equally beautifully with its rich yellow hue.  But to enhance the tropical theme, the cake is topped with an assortment of lychees, coconut, bananas, tamarillo, and hibiscus blossoms.  Over to the side, there's another tropical assortment, just to drive the point home.  Rum syrup soaks into the cake layers, while rum laced buttercream and more passionfruit curd fill the cake.  A straw mat pressed into the fondant leaves a lovely texture on the outside.
We have Martha Stewart Weddings to thank for this crave-inducing cake.
Read More:
exotic wedding cake
,
fondant wedding cake
,
passionfruit wedding cake
,
tropical wedding cake
,
white and yellow wedding cake
,
white wedding cake