0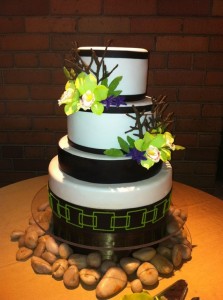 I super need some Zen today.
I am running a half marathon tonight – my first ever race, and I pick a half marathon – and I'm a little nervous about it.  My poor family.  I've been a little on the crabby side this week.
But then I remembered that I had this lovely, Zen-inspired cake tucked away in my "favorites" file for just the right time…and lo and behold, here it is.  Just the right time.
Just looking at this cake calms me the heck down. 
Isn't it elegant?  Four tiers, trimmed in black, with a green border that matches the gumpaste orchids.  Oh, but yes, I said gumpaste.  Because those orchids and twigs were fashioned, not grown.  I love that, in this year, when the double height tier is all the rage, this cake features a half height tier instead.  I also think the plexiglass cake plate and smooth river rocks are exactly the right way to display this simple, modern cake.  It is perfection.
This lovely work of art was fashioned by Sweet Cakes by Rebecca, of Citrus Heights, California.  Check out Rebecca's website to see some truly beautiful work.  Now, pardon me, while I go strike a (yoga) pose.
Read More:
asian inspired wedding cakes
,
black and green wedding cakes
,
Black Wedding Cakes
,
Green Wedding Cakes
,
Orchid Wedding Cakes
,
sweet cakes by rebecca
,
zen inspired wedding cakes