0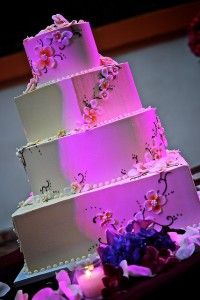 I know, I know.  The angle and lighting are a little funky on this one.  But it's sooooo still worth posting.
I love dogwood blossoms.  We awaited with such joy the blooming of the dogwoods back home, when we knew spring was finally on its way.  And this cake features beautiful versions of the lovely flower, used sparingly and asymmetrically on the various layers.
And speaking of the layers, I love a cake that has alternating shapes.  This one features both squares and rounds, and the second layer from the top is both square AND positioned caddy corner to the bottom square.  Sometimes, all this variety in shape and position can look like a big mess.  Here, it works.
Finally, it's a buttercream cake!- and how my heart loves buttercream.  Fondant is here to stay, and I reluctantly admit it has its place, both in terms of aesthetics and standing up to heat.  But if possible, give me a buttercream cake any day.  The scroll work and sparse beading around the bases of the layers are nice touches as well.
Read More:
alternating shape wedding cakes
,
buttercream wedding cakes
,
dogwood wedding cakes
,
minimalist wedding cakes
,
seasonal wedding cakes
,
spring wedding cakes