0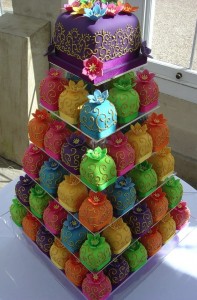 Happy Election Day, Everyone!  Isn't it comforting to know that the sun will go on rising and setting, regardless of who wins this election?
I thought we could all use some bright and cheerful.  So whether you're reading this while standing in line to vote (brace for long lines!) or you're back in your comfortable office or living room, in possession of that wonderful little "I Voted!" lapel sticker, enjoy this one.  I HEART color, and I HEART miniature wedding cakes, so this one was a no brainer.  Actually, it's kinda causing me to jump up and down and squeal a little bit.  Okay.  SQUEEEEEEeeee episode over.
We found this one on Pinterest.  I don't know who the baker is, but if you do, please chime in so we can give credit where it's due.
Read More:
bright colored wedding cakes
,
unusual wedding cakes
,
wedding baby cakes