0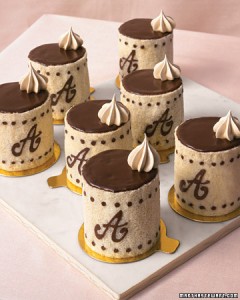 I've been a little stuck on coffee and chocolate over the past week or so. My hubster made a truly fabulous mocha-kissed Buche de Noël for our gathering with Canadian friends the other night. The beautiful dessert – shaped like a Yule log, in case you aren't familiar – capped off a lovely evening of French-Canadian/British fusion celebration, and we had a grand time.
So I'm not quite finished with the complex and hearty flavors of coffee and chocolate. The richness and complexity, and, well, heaviness and darkness, seem to lend themselves in a lovely way to this part of the year.
If you love baby cakes, individual wedding desserts, or DIY, then this post is for you. These lovely Chocolate Espresso Charlottes, from the pages of Martha Stewart, are beautiful and sound amazing. And you don't even have to rely on your baker to make them…there's a how to right in the link!
Is this a project you'd like to tackle for your reception?
Read More:
baby cakes
,
charlottes
,
chocolate charlottes
,
individual wedding desserts
,
mocha wedding cakes