0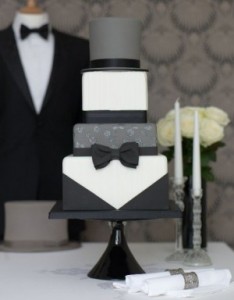 This. Is. FABULOUS (insert emoticon for trilly tenor voice here.)
Want a cake dressed up just like your traditionally-clad guy?  No problem!  The Cake Parlour has you covered.
From his crisp black tie to embossed vest material, and right up to his natty top hat, this cake is refined masculinity to the -nth degree.  I completely love it.
Wouldn't this be beautiful beside a lovely, lacy, traditional white wedding cake?  I know that the norm is to have a groom's cake depicting everything from beer to sports teams, but every once in a while, it's nice to dress up in fancy clothes, right?  And it would seem that a formal wedding would call for a formal cake.  This one certainly fits the bill, but keeps a sense of humor.
Fabulous.
Read More:
black and white cake
,
formal grooms cake
,
tuxedo cake
,
tuxedo grooms cake