0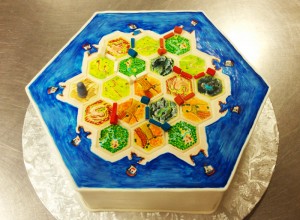 Recently, our friends at For Goodness Cakes, located in Atlanta, Georgia, shared with us one of their most unique groom's cakes to date: a cake depicting the game board from the uber popular board game The Settlers of Catan.
Christina from For Goodness Cakes told us the story behind the cake:
Nothing excites us more than a challenge and groom's cakes are almost always the ones that get our hearts (and minds) racing! This particular cake was a surprise from the bride to her game-loving groom. We had never heard of The Settlers of Catan game before, but the bride surely enlightened us! We soon found out just how many people are fanatical about this game and so we knew we had to do her and her groom justice.

In order for us to get the proper game set-up on the cake, the bride taught us exactly how to play the game – down to what pieces can move where and what tiles can be next to others! We were quite nervous in the beginning, but once she sent us pictures of game pieces in progress, this helped tremendously.

Of course, we could have printed out the board game graphics and merely laid them on top of a cake. But we knew that the whole point of the surprise was to truly recreate the game, by hand. And so we did just that! Each tile is a hand-painted hexagon made out of fondant, as is the board game layout itself. We did our absolute best to recreate the terrain illustrations in the actual game and so we felt a little bit like we were art students, re-creating a master work.

We couldn't have been happier with the results. And the groom, of course, was absolutely stunned and enthralled by it. As you can imagine, it was hard for them to cut into it and ruin a perfectly good game!
I love the story of how the team at For Goodness Cakes painstakingly recreated this board game with TLC for their clients, without taking any shortcuts.  And, as you can see from the photos, the finished product is completely awesome.
Read More:
atlanta cakes
,
board game cakes
,
georgia cakes
,
settlers of catan cakes