0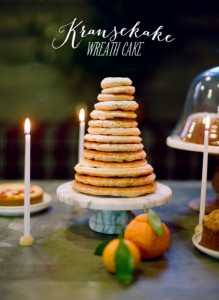 Hi Guys!
Aren't the holidays the best?  I mean, I know it can be hectic, trying to get everything done, all while being intentional and meaningful about every little detail.  But still, it's such a great time to gather in and just love on people.
Last night, we celebrated one of my favorite new Christmas traditions, a Christmas dinner inspired by my friend Keith's French Canadian roots.  We ate too much, and drank a little, and just had a good time being.  There were so many smiles.  And that just feels good, you know?
So with very little shopping completed, and almost no baking planned, I'm gonna round up a few Sweet&Pretty things for you today, and then rest a bit in preparation for a jam-packed week.  I hope you can do the same — and I hope you enjoy whatever comes your way today!
We'll start with a recap of AWCB posts this week.
We kicked the week off Monday with this lovely winter-inspired wedding cake with pine cones.
On Wednesday, I rhapsodized (just a little) about coffee with this mocha wedding cake.  I love the meringues!
A black and ivory plaid cake (actually a birthday cake, but it would be gorg for a wedding) stole the show on Thursday.
I showed you another cute variation on the bride and groom cake topper on Friday. This time, the bride was dragging the groom back from a hunting trip.
And on Saturday, we featured this incredible groom's cake based upon the board game the Settlers of Catan.  Incredible!
And now for some Sweet&Pretty from the interwebs:
Wedding Bee shares a fun story of small town wedding cake tasting.
If you're looking at December 2013 for wedding dates, Weddzilla offers this advice on what to consider when planning a December wedding.
Emmaline Bride shares 5 things to do after you get engaged.
Style Me Pretty shares some lovely recipes for holiday success.  We featured their beautiful take on a Norwegian Kransekake above.  (Styled by Style Me Pretty, photographed by White Loft Studio.)
From Polka Dot Bride, here's a recipe for one of our faves — rum balls!
Apparently, emerald is the color of 2013.  So says Pantone. Via Wedbits.
Sigh & sigh: Limm & Lovely share a darling mood board: tartan and thistle.  Yup.
Have a Delicious Week!
Read More:
Bride and Groom Cake Toppers
,
coffee wedding cakes
,
mocha wedding cakes
,
norwegian kransekake wedding cake
,
plaid wedding cakes
,
seasonal wedding cakes
,
settlers of catan grooms cake
,
winter wedding cakes