0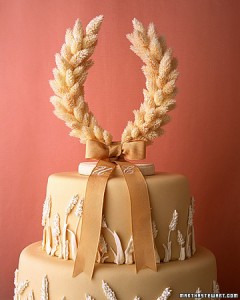 Here is another beautiful cake topper from Martha Stewart. I know. I can't get enough of them!
A couple of things to point out here. First, I adore this simple palette of wheat colors in various shades, inspired by the topper. It's so understated and elegant.  The topper itself is made of phalaris, a dried grass that resembles wheat (but it's so much prettier, yes?) I was happy to see that it was what it was, and not a gum paste version. I mean, what's the point in that?
I adore the wheat that decorates the layers, though. The whole effect speaks to abundance and fertility…beautiful symbols for a happy marriage.
Finally, the lucky horseshoe motif is a traditional one in Britain, I'm told. Of course, it wishes happiness to the couple. A lovely sentiment indeed.
Read More:
beige wedding cakes
,
horseshoe cake toppers
,
khaki wedding cakes
,
wheat cake toppers
,
wheat colored wedding cakes