0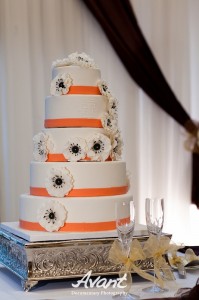 I heart this cake. Majorly.
Okay, with the "majorly" I majorly showed my age just now.
So, this is another fantastic cake from Shawna at Flourish Cakes. We have been working to get this one up for sometime between the two of us. But she had sick kiddoes, and I ran off to the wilds of West Virginia and well…here we are.
I thought this cake was breathtaking the first time I saw it. Its simplicity, the clean lines, the East-meets-West feel, the, I don't know, crispness of it all. Its so simple, and yet so complete.
Shawna told me this about it:
The clients wanted to incorporate the Chinese symbol of double happiness onto their cake and that was an important factor.  They also wanted something very simple and small since they didn't think a lot of people would eat cake after a twelve-course Chinese meal!  So when I found out the guest list was over 300, I suggested that they have a larger cake with dummy tiers added to add height; otherwise the cake would be lost in the room.  The top three layers of the cake were lemon cake with lemon curd filling, and the bottom two layers were dummies.  I hand-piped the "double happiness" symbol on the cake so it would be incorporated but not take away from the elegant design. 
There is just nothing I don't love about this cake!  And the double happiness symbol is exquisite.
What do you think about using symbols like this on a wedding cake?  If I had it to do over again, I believe I just might.
For other examples of Shawna's beautiful work, check out her webpage, or follow her on Twitter.
Read More:
anemone wedding cakes
,
chinese double happiness symbol
,
chinese wedding cakes
,
orange wedding cakes
,
white wedding cakes