0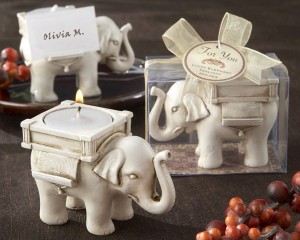 It might be Friday the 13th, but today is your lucky day because I have some super cute wedding favors to share!
Since it seems like a lot of people focus on the "bad luck" side of Friday the 13th, I thought it would be more fun to stay positive. So, I searched for a symbol of luck and found these elephants.
Did you know that in Eastern cultures, an elephant with its trunk raised is a symbol of good luck? (I had no idea). And, did you know that old folklore says getting married on a Friday could be bad luck?
I say forget what those old wives tales tell you and get married on a Friday – or go really wild and get married on Friday the 13th! (The next scheduled Friday the 13th is in June, so you have plenty of time to plan).
So today, on a day when we need all the luck we can get, what better item to feature today than these adorable elephant tea light holders? These guys have their trunks held high, so you and your guests are bound to have oodles of good luck.
They're also multi-purpose, serving as both a tea light holder and a place card holder. Two for the price of one you could say! How lucky.
You can find these adorable – and lucky – elephant favors here.
Read More:
Elephant favors
,
elephants
,
Friday the 13th wedding favors
,
Lucky elephants
,
place card holders
,
Tea light holders
,
wedding favors