0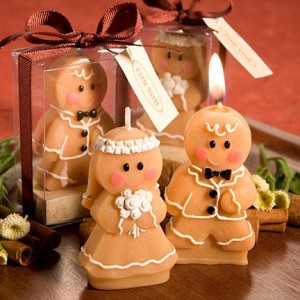 If there's one thing that just screams "holidays" it's gingerbread men – and women.
So what could be cuter as a favor at your winter or holiday-themed wedding than gingerbread bride and groom candles?
Nothing could be cuter.
These adorable candles look like the real thing and feature white icing and candy-like decorations. The gingerbread bride is holding a bouquet of white flowers and her groom is quite dashing for a gingerbread guy.
The candles come packaged individually, and each package is tied with a chocolate colored ribbon. You could give each guest either a bride or a groom or go big and present each guest with a married gingerbread couple.
This is such a perfectly whimsical (and affordable) idea for your winter wedding.
You can find the gingerbread bride and groom candles here.
Read More:
candles
,
gingerbread
,
gingerbread bride and groom
,
gingerbread bride and groom candles
,
holiday wedddings
,
holidays
,
wedding favor candles
,
wedding favors
,
winter wedding
,
winter weddings