0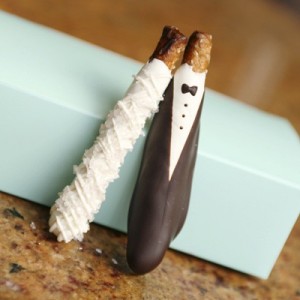 I don't know about you, but I always get a kick out of what wedding guests get to take home as favors. I've seen M&Ms, Jordan almonds, pencils, and small boxes of chocolate. But I've never seen something as cute as these bride and groom pretzel rods.
Don't you just love these wedding favors? They're so original and whimsical that your guests will definitely love to take them home.
The pretzel rods are made fresh and the website says that "large orders" may take up to 10 business days to complete. So, if you're expecting 300 people at your reception you might want to plan ahead.
These bride and groom pretzels rods are dipped in chocolate – white for the bride, which is then embellished with sparkly sprinkles – and then white and regular chocolate for the groom pretzel so it looks like a tuxedo. They are packed in clear cellophane bags and tied with a ribbon in your color choice, so you can coordinate with your wedding colors.
If you're looking for a fun and creative wedding favor, these pretzels might be it!
Read More:
bride and groom pretzel rods
,
chocolate
,
chocolate dipped pretzels
,
pretzel wedding favors
,
unique wedding favors
,
wedding favors