0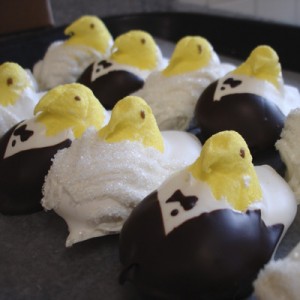 This might be the cutest – and most fun – wedding favor in all of history.
I give you bride and groom Peeps.
I've shared edible "bride and groom" favors before, including marshmallows "dressed" as the married duo and pretzel rods in their best bride and groom attire.
But these Peeps? I have to say these take the cake.
You have to imagine how amused your guests will be when they see wedding attire-adorned Peeps as their favors. These would be perfect any time of year, but they'd be super adorable at your spring wedding.
And, I think just about everyone loves the ooey gooey sweetness that is Peeps. These are a must-do wedding favor in my humble opinion.Sweet and delicious and guaranteed to make everyone smile – bride and groom wedding Peeps for the win!
You can find these Bride and Groom Peeps here.
Read More:
bride and groom Peeps
,
chocolate covered marshmallows
,
chocolate covered wedding favors
,
fun wedding favors
,
marshmallow wedding favors
,
spring wedding
,
spring wedding cakes