0
Posted on February 14, 2014 by Traci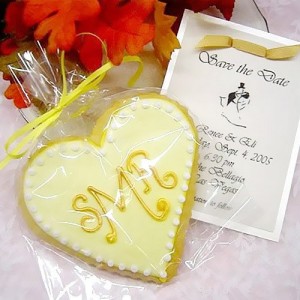 Happy Valentine's Day!
As we're celebrating love all day today, I thought it was only appropriate to find a wedding favor that represented all things love.
And so I give you the monogram heart-shaped cookie.
It's the perfect wedding favor for your Valentine's Day wedding, don't you think?
Everyone loves cookies, and I'm a big fan of edible wedding favors (who isn't?), so when I found these cookies I just had to share them with you!
What I love most about these cookies is that they feature the monogram of the new couple, which is something most of us are very excited to show off as soon as we say "I do."
These adorable cookies can be decorated to match the colors of your wedding – so there's no need to worry about cookies that will clash with your color palette. You can choose the color of the cookie and the color of the monogram and accent so everything looks just perfect on your big day. The cookies are individually wrapped and tied with a matching ribbon.
Of course, these cookies would be perfect all year long, not just on Valentine's Day.
You can find these monogram heart-shaped cookies here.
Other Posts You May Enjoy:
Read More:
cookie wedding favors
,
cookies as gifts
,
cookies as wedding favors
,
fun wedding favors
,
heart shaped wedding favors
,
heart shaped wedding treats
,
monogram
,
monogram wedding favors
,
wedding cookies
Recent Posts