0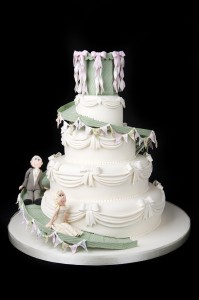 I always enjoying finding cakes that are whimsical and add an element of fun to the wedding reception.
This cake from our friends at Hockleys Cakes is just what I was looking for! It's whimsical, fun, and even has a spring-like look and feel to it.
The four-tier cake was created for a bride and groom who were celebrating their big day at an old stately home, according to Michael Hockley. The couple wanted a "vintage fairgroud" feel to the reception and wanted their cake to fit the bill.
And so, the Helter Skelter cake was created.
The cake features bunting around each tier, much like the bunting you'll find decorating booths at the local fairgrounds. The top of the cake features a fairground-type stall decorated with ribbons that turns into a slide that wraps around the cake.
The bride and groom figures – who are sliding down the side of the cake on the slide – were personalized to represent the couple and the outfits they wore on their wedding day.
I love this cake for so many reasons – it isn't your typical wedding cake and you can feel the joy of the wedding day just looking at the cake. Also, it makes me want to go out and find a slide or a county fair – or both!
For more amazing designs be sure to visit Hockleys Cakes!
Photo credit: Hockleys Cakes
Read More:
Fairground wedding cakes
,
Hockleys Cakes
,
slides on wedding cakes
,
spring wedding cakes
,
summer wedding cakes
,
unique wedding cakes
,
vintage wedding cakes