0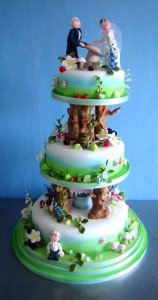 I am going to go out on a limb here and say that spring really is here to stay as we inch closer to April.
With that in mind, I wanted to find a wedding cake that was all about nature and spring-like things. I think this "woodland" wedding cake is that cake.
Our friends at Hockleys Cakes created this one-of-a-kind wedding cake for a bride and groom who "love everything woodland." I am in awe just looking at this cake and taking in all the incredible details.
The cake itself features three tiers – each a different flavor. I love wedding cakes that have a different flavor in each tier, so in my book this cake is already awesome.
But let's look at the details.
Each tier of the cake is supported by handcrafted tree trunks. Yes, I said hand crafted! And then each tier features an array of colors including the red and white toadstools, blue lavender, red berries, green foliage, and the mutli-colored flowers. There are so many details with this cake I could just stare it at for hours.
And of course, a cake this amazing has to have a creative cake topper – in this case it's hand crafted versions of the bride and groom.
The icing on the cake is a white base with pale blue and green that are meant to resemble the sky and the grass.
This woodland wedding cake is a truly unique creation and I want to thank Hockleys Cakes for sharing it with us! Keep checking back as we continue to showcase more of their incredible creations.
Photo credit: Hockleys Cakes
Read More:
floral wedding cakes
,
fondant
,
hand crafted cakes
,
Hockleys Cakes
,
spring wedding cakes
,
tree themed cakes
,
woodland wedding cake