0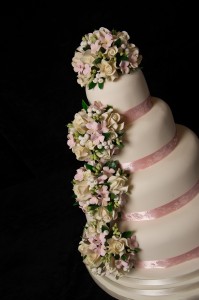 Spring is in the air!
Yes, it's true! The first day of spring is this tomorrow and therefore I'm focusing on all things pretty and floral and springy.
Just like this beautiful wedding cake adorned with balls of flowers.
This gorgeous contemporary wedding cake – called the 'Marlborough' –  is another incredible creation from our friends at Hockleys Cakes in the United Kingdom.
I am in love with this cake. It's so pretty and delicate and just downright gorgeous that I can't imagine wanting to cut into it, no matter how delicious it is!
The four tier cake features elegant white icing and each tier is separated with pink ribbon. But what makes it a true show stopper are the balls of sugar flowers cascading down the side of the cake.
Michael Hockley says the couple wanted to coordinate the cake with the color scheme of the wedding and so the bride's bouquet served as the inspiration for the balls of flowers.
How amazing would it be to have your bouquet replicated on your wedding cake? And not just once, but several times? I think this is a genius idea and it lends itself to creating a stunning centerpiece for your celebration.
Many thanks again to Hockleys Cakes for giving us a chance to share their creations with you!
Photo credit: Hockleys Cakes
Read More:
balls of flowers
,
balls of sugar flowers
,
Cascading flowers cake
,
floral wedding cake
,
floral wedding cake toppers
,
flowers
,
Hockleys Cakes
,
spring flowers
,
spring wedding cakes
,
sugar flower balls
,
sugar flowers
,
wedding bouquet