0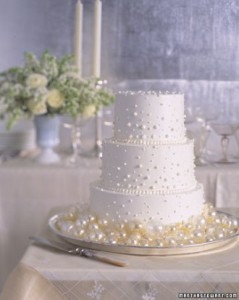 Bubbles are one of my favorite things.
They're fun and whimsical and oh so bubbly! And you can't help but smile when you think of bubbles. Even the word itself is funny. Say it with me – bubbles!
Which bring us to today's wedding cake that is surrounded by bubbles.
The wedding cake itself is simple enough – iced with a lovely buttercream icing. But what makes it really incredible is the sea of bubbles that surround the bottom of the cake. It's almost as though the cake is floating on the bubbles.
And these aren't any ordinary bubbles either. They are blown-sugar bubbles that were created to look like the bubbles you find in a glass of champagne.
Talk about festive!
The cake is also embellished with piped buttercream dots which continues the bubbly theme.
This cake would be perfect at any time of year, but it would be especially festive around the holidays or at a spring or summer wedding.
Cheers!
You can find this bubbly wedding cake here.
Read More:
blown-sugar bubbles
,
bubble wedding cake
,
bubbles
,
champagne bubbles
,
festive wedding cakes
,
fun wedding cakes
,
holiday wedding cakes
,
spring wedding cakes
,
summer wedding cakes