0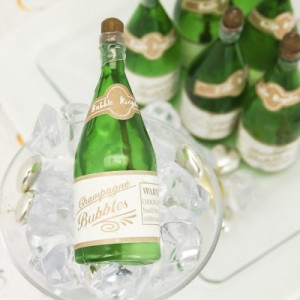 New Year's Eve is the party of the year, so imagine how much fun it would be to get married on the last day of the year!
If you're thinking of having a New Year's Eve wedding, you'll of course want to have some extra-celebratory fun added to the reception plans. And that's where this week's fun favor comes into play.
What better way to ring in the New Year than with a bottle of champagne…bubbles!
That's right….we said bubbles.
These super-cute and very festive bubbles comes in a mini champagne bottle. And they are the perfect favor for your guests to have when the clock strikes midnight and the New Year begins. Instead of confetti or poppers, everyone can blow bubbles.
Blowing bubbles at midnight sounds so fun and whimsical. And it's a perfect way to celebrate your new marriage in the new year.
You can find these mini champagne bubbles here.
Read More:
bubble wedding favors
,
bubbles
,
champagne
,
champagne bubbles
,
New Year's Eve wedding
,
New Year's Eve wedding favors
,
wedding favors