0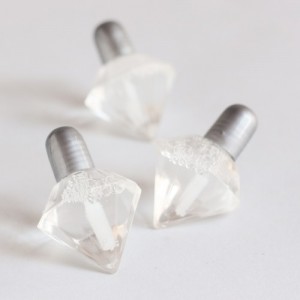 A long time ago when I got married I said I didn't want people throwing rice at me. It seemed rather old fashioned.
So instead of rice – or something else that could be "tossed" at us – we decided to hand out little bottles of bubbles so our guests could blow tiny bubbles at us instead.
And I have to say, walking out of the church surrounded by tiny bubbles was SO MUCH FUN. I highly recommend bubbles for everyone!
Which brings me to today's fun wedding favor – diamond shaped bottles of bubbles. How much fun would these be for your guests?
You could fill pretty baskets with these small bottles of bubbles and as guests left the ceremony location everyone grabs a bottle and showers the happy couple with bubbles.
Everyone will love this. And, you don't have to worry about picking rice out of your veil.
You can find these diamond bubble here.
Read More:
bubbles
,
fun wedding favors
,
wedding favors