0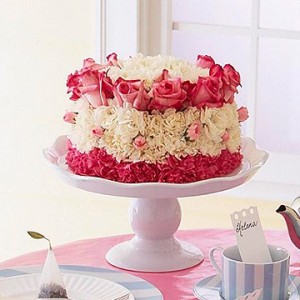 Today we're not talking about wedding cakes – well at least not the edible kind.
I saw this wedding cake bouquet centerpiece the other day and I just had to share it with you!
Normally I'm all about wanting to show you the prettiest and most delicious looking wedding cakes around, but how cute is this cake made from flowers?
This would be so pretty as a centerpiece at the head table and you could personalize it with your favorite flowers to match your bouquet. And then, instead of setting your wedding bouquet on the table, you can have this floral wedding cake there instead.
This version features carnations, roses, and mums but you could use Gerberas, daisies, or any other flowers you love. Just make sure they're sturdy and hardy and won't wilt easily. No one wants a wilted flower cake!
Your guests will be wowed by how beautiful this floral wedding cake is! And, it would be perfect for your spring or summer wedding – and it would be stunning at an outdoor wedding.
You can find this wedding cake bouquet and the DIY directions here.
Read More:
cake centerpieces
,
cakes made from flowers
,
floral cakes
,
floral wedding cakes
,
flower cakes
,
wedding cake centerpieces
,
wedding centerpieces