0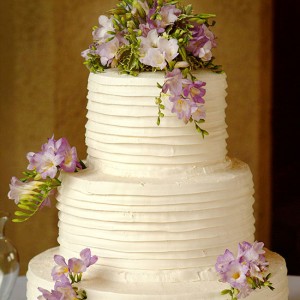 Sometimes all it takes to make a cake stunning is a simple design and some fresh flowers.
Take this cake for example – the icing is simple and the only embellishment is fresh flowers. That's it.
And it doesn't need anything else to make it look spectacular.
This wedding cake features rows of white icing that resemble the tiered ruffles on a wedding dress, giving it a high fashion vibe. Of course it would also be stunning with a simple, stark white smooth icing too.
The addition of the fresh flowers – here lavender and freesia – give it a pretty purple pop. If purple flowers aren't your favorite you can add a springy feel with small pink roses or even Gerbera daisies. If you're having a fall wedding dark colored Gerberas or roses would be a beautiful addition to the cake.
You just can't go wrong with fresh flowers on your wedding cake! What kind of fresh flower would you use on your dream wedding cake?
You can see the details on this cake here.
Read More:
flowers on wedding cakes
,
freesia on wedding cakes
,
fresh flowers
,
lavender wedding cakes
,
purple flowers
,
spring wedding cakes
,
wedding cakes with fresh flowers
,
wedding cakes with real flowers