0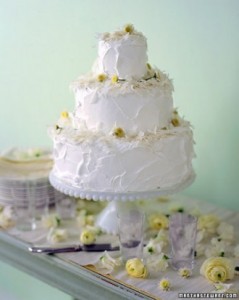 Despite the cooler-than-normal temperatures that won't let go, it is officially spring! And that means fresh flowers are on my mind, especially when it comes to wedding cakes.
I love seeing wedding cakes with fresh flowers – they give the cake a nice pop of color while keeping things elegant and classy. Plus, it's a good way to incorporate your bouquet flowers into the reception.
Now while you might not be carrying mums in your bouquet, I'm still a fan of this springy white wedding cake.
The fluffy white frosting gives it a light and airy feel while the use of tiny mums gives the cake a decidedly DIY feel.
Of course if mums aren't your bloom of choice, you could also choose mini daisies or mini roses – whatever flower suits you!
You can find this cake here.
Read More:
diy wedding cakes
,
floral wedding cakes
,
miniature flowers on cakes
,
simple wedding cakes
,
spring wedding cakes
,
wedding cakes with fresh flowers