0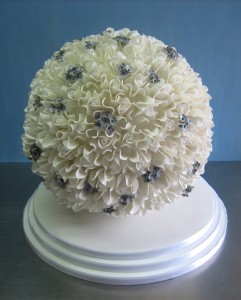 As non-traditional wedding cakes go, this one … well, it takes the cake.
How much love do you have for this posey wedding cake? It's rather amazing, don't you think?
And for those of you wondering, a "posey" is a small flower bouquet. (Of course, right now I'm singing "a pocket full of posies" over and over in my head).
Our incredibly talented friends at Hockleys Cakes created this posey wedding cake, and I have to admit every time we feature one of their cakes I have an urge to buy a plane ticket to visit England just so I can sample one of their amazing creations!
This posey cake is a circular cake that is covered with 190 handmade sugar roses.
That's right. Nearly 200 handmade sugar roses cover this cake. And the smaller flowers are added to emphasize the color scheme of the wedding. Which means a bride can really personalize this cake with her colors.
I am in love with this beautiful, circular wedding cake and I'm pretty certain that it would be perfect at any wedding – spring, summer, fall, winter. You know you love it too.
Photo credit: Hockleys
Read More:
bridal bouquets
,
circle wedding cakes
,
floral wedding cakes
,
handmade sugar flowers
,
Hockleys Cakes
,
posey wedding cake
,
sugar flowers