0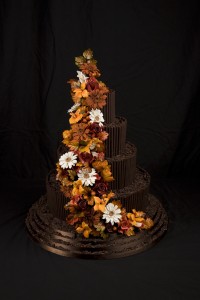 Until recently I never would have considered chocolate frosting on a wedding cake.
Don't get me wrong – I love chocolate – but I always thought wedding cakes "had to" be frosted with white icing of some kind whether it's fondant or buttercream.
Well, I'm happy to report that I've changed my mind and if I had to do my wedding cake over, it would be all chocolate.
As today's cake proves, a wedding cake with chocolate icing can be beautiful and elegant and downright stunning.
Our friends at Hockleys over in the United Kingdom created this gorgeous cake and they call it the "New England."
Me? I call it perfection.
Michael Hockley says the cake has an "autumnal" feel to it thanks to the colors of the flowers that adorn the cake. I have to agree, but I'm also imagining how the cake would look with summer flowers. With the dark brown background, can't you imagine this cake with various hues of red flowers? I think it would be amazing.
Speaking of the flowers – they are hand-made sugar flowers. Which makes the cake even more incredible since they look so real! I love the white gerbera daisies – they really make the whole cake pop!
Once again the artists at Hockleys have hit it out of the park with this cake. I can't wait to see what they come up with next!
Have you ever considered a chocolate wedding cake? Leave a comment and let us know!
Photo credit: Hockleys
Read More:
cascading flowers
,
chocolate wedding cakes
,
floral wedding cakes
,
gerbera daisy wedding cakes
,
sugar flowers
,
white gerbera daisies