0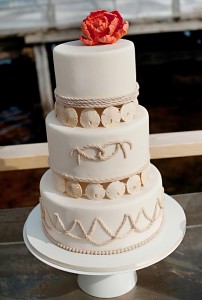 As we inch closer and closer to summer vacation I find myself dreaming of the beach.
I want to walk in the sand and listen to the waves crash…
But first I want to share this very modern and fun beach-themed wedding cake with you!
I absolutely love this cake and it's because of the sand dollars. I used to search for sand dollars on the beach as a kid and they've always been my favorite beach "treasure."
The tiers on this simple yet elegant cake are separated by sugar sand dollars and the tiers are embellished by fondant rope. It's perfectly nautical!
But perhaps the prettiest part of the whole cake is the bright red sugar peony that serves as the cake topper. It gives just the right amount of color pop on the cake. If you aren't a fan of peonies, you could always choose a different flower.
This cake would be so perfect for your beach-themed or destination wedding.
The cake was created by City View Bakehouse from Mermaid in Prince Edward Island, Canada. (How perfect is that!?!) You can find the cake here.
Read More:
beach themed wedding cakes
,
beach wedding cakes
,
peony cake topper
,
sand dollar wedding cakes
,
sugar sand dollars