0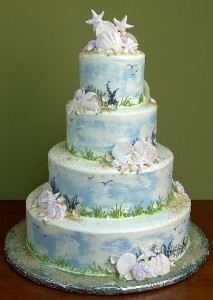 If given the choice I would live at the beach because I'm a firm believer in the theory that life is better in flip flops.
I love everything about the beach – the sand, the surf, the colors of the ocean. And, I always thought it would be romantic to be married on the beach. Which is why I love this beach-themed wedding cake. It just screams romance and you can almost hear the waves crashing in the distance, right?
The four-tiered cake appears to be hand painted with a seascape theme of blue skies, picket fences, sea grass and sand. On each tier there is even a little sprinkle of "sand" (which I'm guessing is most likely colored sugar and not real sand).
And the seashells adorning each tier and the top of the cake make it the perfect beach wedding cake. Looking at this cake makes me want to head to the beach right now and dip my toes in the big blue sea.
If you love the idea of a beach wedding – or even a beach-themed wedding – this cake is perfect!
I found this lovely cake here.
Read More:
beach wedding
,
beach wedding cakes
,
beach wedding ideas
,
hand painted cakes
,
ocean wedding cake
,
sea inspired wedding cakes
,
seascape wedding cakes
,
seashell wedding cakes