0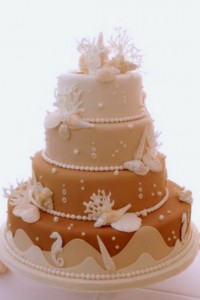 Why don't I just declare it "Beachy Monday?" Or "Summer State of Mind Day?"
I seem to gravitate toward beach-themed cakes. Because. I. Love. Them. As you well know, I make my home a little inland from the very southern east coast, and I'd be even more coastal if I had my way about it.
But this cake is simply GORG! I mean, it's not enough that it has SEASHELLS…but it's OMBRE TOO! And sand-colored at that. Friends joke sometimes that my signature color is khaki, so you know I'm diggin' that background. But that's not all there is to the adorableness…the waves at the bottom, the pearl borders, and the randomly piped bubbles (with some additional pearls thrown in for good measure) make this cake exactly PERFECT.
I found this cake on my Pinterest wanderings, and sadly, I don't know who made it. Do you? If so, please leave me a comment so that I can give credit where credit is due. I want this cake artist in my life!
Read More:
beach themed cakes
,
brown cakes
,
khaki cakes
,
ombre
,
ombre cakes
,
pearl cakes
,
sand colored cakes
,
seashell cakes
,
seasonal wedding cakes
,
summer wedding cakes
,
unique wedding cakes