0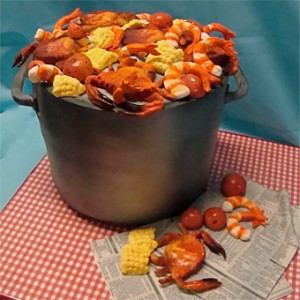 It's been a while since we featured a groom's cake, so I thought today was a good day to talk about them.
And I found a doozy of a groom's cake in my search for something unique and a little different.
I'm talking about this clambake-inspired cake. It is truly one of a kind.
And it's also perfect for your destination or beach-theme wedding.
Let's take a moment to really look at this cake. All of the items – the shrimp, crabs, vegetables – they're all made from sugar paste and white chocolate. Which means they're edible(and apparently the newspaper is also edible). I'm guessing the "bucket" is all cake too, and yes, that's silver-y frosting!
If you want a showstopper kind of cake – and one that your guests will remember for a very long time – this clambake groom's cake is perfect.
You can find this cake here.
The cake was designed by Debbie Does Cakes.
Read More:
beach inspired grooms cake
,
beach inspired wedding cakes
,
clambake groom's cake
,
grooms cake
,
summer groom's cake