0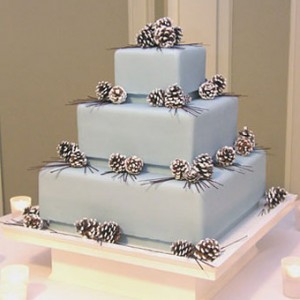 I'm not going to lie.  The day I figured out that spray paint + pine cones = amazing winter accessories for my house I kind of went nuts.  When I figured out that I already owned silver and gold spray paint AND my backyard was littered with pine cones so in essence this DIY decoration was free…I kind of flipped out.
I'm sure these pine cones aren't exactly spray painted (something about that seems incredibly unsafe to be near your edibles) but they are a gorgeous silver on top of an ice blue cake.  Hot, hot, hot!
This cake was designed by Gateaux Inc. out of Minnieapolis, MN but I found it featured on Brides.com.  I know just yesterday I was knocking on the "traditional christmas color combinations" but the ice blue and the silver really makes this cake.
Read More:
Blue Wedding Cakes
,
pine cone wedding cakes
,
silver and blue wedding cakes
,
silver wedding cakes
,
winter cakes
,
winter themed cakes
,
winter wedding cakes
,
winter weddings