0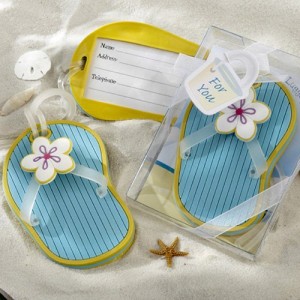 So you're having a destination wedding. And it's at the beach!
Which means your guests will be packing their bags and heading somewhere warm and tropical. And if they're flying to the destination they'll need a luggage tag.
Which brings us to today's fun and functional wedding favor – the flip flop luggage tag!
Who wants a boring "standard issue" luggage tag? Not me. Give me something that will make my suitcase stand out in the sea of monochrome suitcases on that conveyor belt. Give me a bright colored flip flop luggage tag.
Your guests will love these luggage tags. They're cute and fun and every time they travel they'll remember the amazing time they had at your beach wedding. As an added bonus, the flip flop tags come in blue and pink, so you can mix and match the tags and the men won't be stuck with a pink flip flop luggage tag, unless they want one!
You can find these super cute flip flop luggage tags here.
Read More:
beach weddings
,
blue wedding favors
,
destination weddings
,
fun wedding favors
,
luggage tag wedding favors
,
pink wedding favors
,
wedding favors