0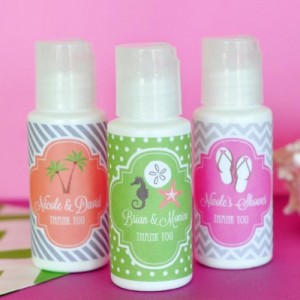 OK. We're totally freezing right now so it seems like the absolute perfect time to think about a summertime destination wedding in a tropical locale.
Who's with me?
And of course if you're hosting a beach wedding and reception you want your guests to be protected from the sun. Which means one thing – sunscreen!
How much fun are these personalized bottles of sunscreen?
The travel-size bottles of sunscreen would be ideal for a welcome bag for out-of-town guests. Or you could put baskets of the bottles out at the wedding location. That way no one has to miss the fun because they are sunburned!
OK, now…everybody think WARM thoughts!
You can find these travel sized personalized bottles of sunscreen here.
Read More:
beach weddings
,
destination weddings
,
fun wedding favors
,
summer weddings
,
sunscreen favors