0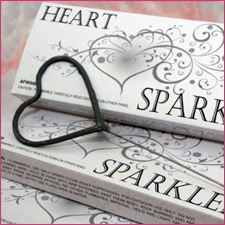 Happy Fourth of July!
Today I thought it would be festive to feature a wedding favor that fit in with the holiday.
And so, I give you heart-shaped wedding sparklers!
Imagine how much fun these would be at your summer wedding. Whether you're having a beach wedding or an outdoor reception, or even want to use the sparklers as your "send off" right after the ceremony, they would bring so much fun to your big day.
Of course you'll have to make sure that sparklers are legal at your ceremony and/or reception location, and you should probably only let the grownups use them. Safety first!
There are so many options for fun when you add sparklers to your wedding favors. You could even use them as part of your cake decorations.
Here's to a sparkly wedding day!
You can find several varieties of wedding sparklers here.
Read More:
fourth of july wedding favors
,
fun wedding favors
,
outdoor wedding favors
,
sparklers
,
sparklers as wedding favors
,
wedding favors