0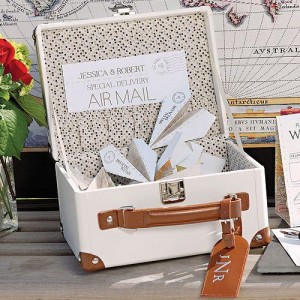 Are you planning on having a guest book at your wedding? And do you think people are going to remember to sign it?
What if you did something out of the ordinary – something that isn't your typical guest book?
Something like this Paper Airplane Wishing Well?
This might be the coolest wedding accessory I've ever seen.
First you need to buy the "mini suitcase wishing well." And then you purchase the kit of air mail notes and let your guests leave you little notes of love and inspiration.
But the best part is these aren't any regular notes – each slip of paper folds into the shape of a paper airplane so at the end of the night you have a mini suitcase full of mini paper airplanes.
You can find the paper airplane wishing well notes here.
Read More:
destination weddings
,
travel inspired wedding favors
,
travel inspired weddings
,
wishing wells