0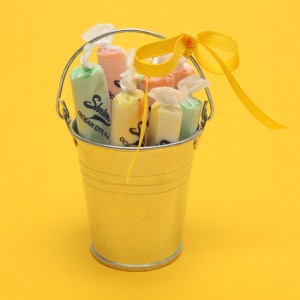 As we try to hold on to the last days of summer, I had to find a fun wedding favor that evoked the season.
I think this small bucket of saltwater taffy is just what we need!
Who doesn't love saltwater taffy? It's the perfect summer treat whether you're on the beach or the boardwalk and your guests are going to love this wedding favor.
And presenting it in tiny buckets just adds to the cool and fun factor!
This would be the ideal wedding favor for your summer wedding on the beach. Or if you're planning a candy bar at the reception be sure to include a big bucket of saltwater taffy!
We found this fun and delicious favor idea here!
Read More:
beach wedding favors
,
beach weddings
,
candy wedding favors
,
fun wedding favors
,
summer weddings