1
Posted on February 7, 2014 by Traci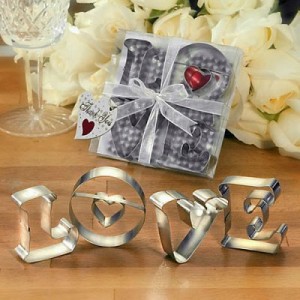 Love is in the air, there's no doubt about that.
With just one more week until Valentine's Day, we're all a flutter with love over here at A Wedding Cake Blog!
This means we're searching for love-inspired cakes and wedding favors and we just LOVE the favor we found for today.
These cookie cutters are just the bees knees in my humble opinion.
First, they're mini cookie cutters and we all know how much I love "mini" favors. Next, they're letters which makes them super cute. And they spell out the word "love" so your guests can make the cutest cookies ever for the loves in their life.
And would you look at the "O" cookie cutter? The center of the "O" is a heart. Extra bonus points for cuteness.
Sure the cookie cutters are adorable and your guests will love them, but you can add a personal touch to the gift by sharing your favorite sugar cookie recipe with the cookie cutters. That is a great way for guests to remember the wonderful time they had at your wedding.
And while these cookie cutters would be perfect for a Valentine's Day wedding, they'd also be great at any other time of the year. After all, you are celebrating all things L-O-V-E at your wedding!
You can find these super cute cookie cutters here.
Other Posts You May Enjoy:
Read More:
cookie cutter favors
,
fun wedding favors
,
love cookie cutters
,
mini cookie cutters
,
sugar cookies
,
Valentine's Day
,
valentine's day wedding favors
,
wedding favors
Recent Posts