0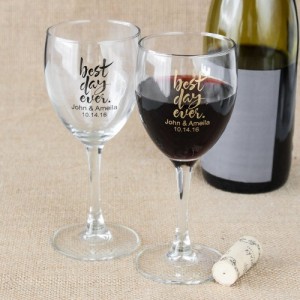 I think I just found my new favorite wedding favor – a personalized wine glass!
I have a thing about beverage glasses – I really love them. I love to collect different styles and have a unique and fun collection for when guests visit.
And these personalized wine glasses are so much fun! You can choose from almost 20 different images for the glasses and some of them are so much fun.
I love the "Best Day Ever" image but there's also an "Eat, Drink, & Be Married" option along with some holiday choices.
The best part? The glasses are reasonably priced and won't break your budget! They start at less than $3 per glass! Fun and economical, and functional – your guests can enjoy wine at dinner in their glasses and then take them home!
We found these personalized wedding wine glasses here.
Read More:
fun wedding favors
,
personalized wedding favors
,
wedding favors
,
wine glasses