0
Posted on November 17, 2014 by Traci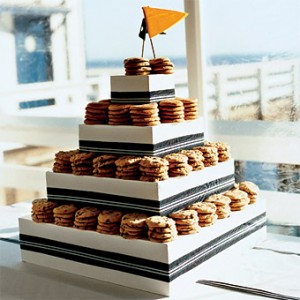 I'm always on the lookout for a unique and 'why-didn't-I-think-of-that' wedding cake idea. And today I think I've found it!
It's a chocolate chip wedding cake. Not a cake made to taste like a chocolate chip cookie, but a tower full of chocolate chip cookies made to look like a wedding cake.
It's brilliant.
Earlier this year I shared the Oreo cookie wedding cake and at the time I thought nothing could be better than that! This chocolate chip wedding cake tower might give that Oreo cake a run for its (milk) money.
This chocolate chip tower would be so fun at any wedding reception – and if you wanted to have a "traditional" cake you could still do that too. But imagine how much fun it would be for your guests to enjoy chocolate chip cookies and a glass of ice cold milk!
We found this "cake" here.
Other Posts You May Enjoy:
Read More:
chocolate chip cookies
,
cookie cake
,
cookies
,
fun wedding cakes
,
unique wedding cakes
Recent Posts