0
Posted on July 15, 2013 by Traci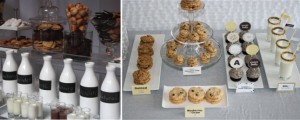 We've all seen candy bars at wedding receptions where guests can pack a little take home box full of sweet treats for later, but what about a cookie buffet? It seems these are all the rage in the great city of Pittsburgh.
I find this to be a fascinating and really fun trend when it comes to wedding receptions. Sure, everyone expects cake for dessert but imagine how surprised your guests would be to see a table full of cookies! And we're not talking just a few cookies either. No sir! Apparently to do the cookie table properly the bride-to-be and her female relatives spend weeks (or months!) baking and freezing thousands of cookies.
The cookies are normally made from recipes handed down through the generations and include old fashioned cookies such as lady locks, pizzelles, and even buckeyes. Of course, you could always hire a caterer or baker to handle the cookie buffet. It might be a little less stressful.
From what I can tell, the cookie buffet is usually presented to guests after dinner and – at least in Pittsburgh – the guests expect a cookie buffet table. Many brides even provide containers so guests can take cookies home. An added bonus to the cookie buffet would be to provide your guests will ice cold milk.
I'm really loving this idea and hope I get to see a cookie buffet at a wedding sometime soon!
I found the photos of the super cute cookie table online at Belle The Magazine. You can check them out here.
Other Posts You May Enjoy:
Read More:
Cookie Buffets
,
Cookie Tables
,
cookies as gifts
,
custom made cookies
,
homemade
,
unique wedding favors
,
wedding cookies
,
wedding traditions
Recent Posts