0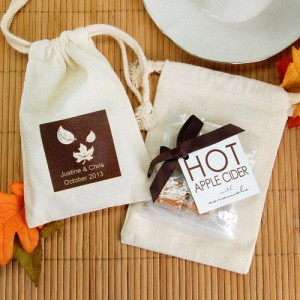 One of the best things about going to the apple orchard in the fall is sipping on hot apple cider. It is the quintessential fall drink.
So what better way to celebrate your fall wedding than with hot apple cider mix in a personalized bag for all your guests? It's the perfect fall wedding favor!
To add to the fall fun, you can choose to personalize the gift bags with images including acorns, a turkey (for the Thanksgiving weekend wedding!), pumpkins, or falling leaves.
The bags are natural cotton fiber so they would be perfect at your rustic or shabby chic wedding reception too.
Each bag contains a package of caramels and a package of hot cider mix – and the best part of this favor is that each bag comes fully assembled so you don't have to do any extra work!
You can find these cute and fun hot cider mix favors here.
Read More:
apple cider mix
,
fall wedding
,
fall wedding favors
,
fun wedding favors